Starting off totally nude I show you my collection of yummy dessert foods. Two cakes and three big pies! I start the fun by putting the yellow butter cream cake on a high stool so I can squish it with my ass! I bounce up and down on it and rub it over my butt and then turn around and smear some of the remains on the front of me too. I then pick up one of the cool whip pies and smash it into my face! I rub the cream all over my body and since I especially like rubbing it on my tits I decide to put the next pie right on my chest. The pie sticks to my tits for a few seconds before falling to the ground. I keep rubbing the cream all over and then put the cream that fell on the floor right on my head. I completely cover my hair with the cream and make my face very messy. I then put the chocolate cake on the stool and put my face in it, then rub my tits in it before finally grinding my pussy all over it. Fucking the cake gets me so horny that I decide to put the last pie right on my pussy. I spread my legs wide and the camera does a close up as I pie my pussy. I then rub the cream all over my body and rub my pussy till I get off having a very sweet orgasm ;)
| | |
| --- | --- |
| File count: | 1 |
| Total size: | 504.51 MB |
| Total runtime: | 16 mins, 58 secs |
| Date added: | 8/07/13 |
| Year produced: | 2013 |
| Reviews: | 1 |
| Views: | 12532 |
| Scene ID: | 7399 |

$11.00
Includes this file:
cake_pie.wmv

1920x1080

4,155 Kbps

504.51 MB

17.0 minutes
Reviews:
"She knows exactly what she's doing, and it's beautiful."
delete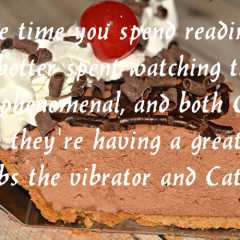 WritesNaughtyReviews
2/27/16
Leila really has a gift for cake sitting. Sure, her ass is astoundingly nice, but it's more than that. She does more than just sit on cakes. She immerses herself in them. She grinds them into goo, works them into each delightful crevasse, and spreads them over every inch of skin until she's absolutely coated in sweet bliss. What she did to that chocolate cake, for example, came right out of a wet dream.

Report

Report