| | |
| --- | --- |
| Tricked Into A Messy Jerk Off | |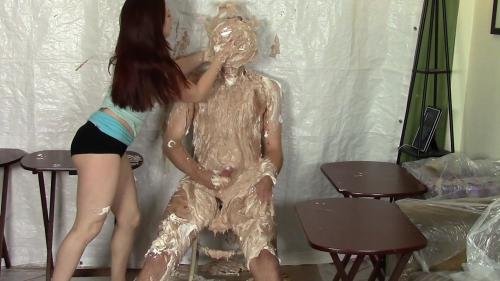 Starring the following model:
"Leila gets Ryan to strip, pies him over 15 times and makes him jerk off"
Leila found her neighbor's lost dog and he is so thankful he says he has to repay her somehow. She says he can repay her by playing a card game involving the loser of each round stripping and then once nude getting hit with a pie. What Ryan doesn't realize is that Leila really wants to see him naked so she rigged the game. He loses every time so he ends up naked quickly. Leila teases him by letting him no she isn't wearing a bra or panties, just a tight t-shirt and booty shorts that barely cover her ass, so he only needs to win 2 times to get her naked. But he keeps losing and Leila keeps hitting him with pies (15 total) some to his face, some to his chest and some right on his cock. She tells him how good his dick looks covered in pie as she rubs it on his body. After all the pies are used up she says he should do something for her since he lost the game. She tells him to jerk off for her. While he strokes his dick she takes the empty pie tins and scoops up the mess that has collected on the floor and continues to hit him with pies to the face until he cums.
| | |
| --- | --- |
| File count: | 1 |
| Total size: | 942.54 MB |
| Total runtime: | 18 mins, 26 secs |
| Date added: | 11/04/15 |
| Views: | 12400 |
| Scene ID: | 15916 |

$16.00
Includes this file:
trickedintomessyjerkoff.mp4

1920x1080

7,142 Kbps

942.54 MB

18.4 minutes

Report